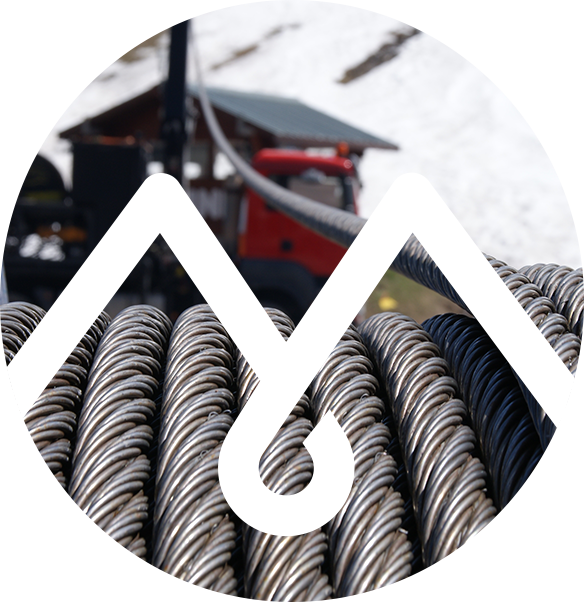 The expertise for ropes
Over the years, IDM has become one of the specialists in cableworks, offering full service packages particularly appreciated by ski area managers as well as people working on touristic sites beyond the mountains.
A supplier for multi-application cables
IDM can provide any kind of cable, from the cable of a simple ski lift to the suspension cables of a cable car.
IDM essentially rests on its long term partnership with the Italian cable manufacturer Redaelli, the products of which IDM is the official distributor in France.
IDM also offers CAE cables for 6 strands of 7 wires mainly for ski lifts.
All-inclusive service
The true strength of IDM is its link with the company Câbles & Montage, which services are sold by IDM.
Together, they embody since 10 years already a duo that is well reknown in the field of ropeways. They owe their fame to their responsiveness, their know-how and their respect for the customers exactings.
Examples of services offered by IDM:
Splicing on all ski lift and air lift cables (all diameters)
Unreeling (in tension)
Unreeling of ski lift cables with a truck/winch that unreels the new cable while reeling the old one on a reel located on the truckbed. This operation is fast and safe, this technique suits very well long ski lifts with angle and floating sheaves. Unreeling with the nominal tension enables to pre-stretch the cable, thus guaranteeing a better stabilization of its lengthening. This also includes the unreeling of air lift ropes (stranded or closed) with standard equipement: winches, hydraulic-braked unreeler…
Shortening of all kinds of ropes
Hauling ropes to prevent the lengthening of the cable.
Replacement
Repairs on cables (replacement of splicing or strands, repairs of Z wires on closed ropes).
Moving of suspension cables
In a regulatory context or because of the lengthening of a cable.
Socketing
Making of sockets on closed or stranded ropes (such as cable car suspension cables or cable car hauling ropes socketed on the trolley).
Second life for the cables
IDM has chosen to remove the ropes that are still in good condition from lifts that are being dismantled in order to recycle them on other lifts still operated and not requiring a new rope (end-of-life lifts).